Good evening, one and all! The first of four (yes, four!) posts to share with you over the next 24 hours... As promised a couple of weeks ago, here are some of my all time favourite products for looking, feeling, and smelling my best! These products really have become essentials for me, some everyday must-haves, others weekly treats. I hope you'll love them too if you're inspired to try them out for yourselves...
1. Cleanse, tone, moisturise.
'Liz Earle Naturally Active Skincare is a Great British beauty brand, founded in 1995. We are passionate about all that we do and create products that really work on every skin type by harnessing the potent powers of the finest quality naturally active ingredients.'
[Source]
Love, love, LOVE. These three products constitute my daily skincare routine. I
always
remove my make-up at night and follow up with these. They are recommended for all skin types, feel lovely to apply and smell divine! I also use the
Liz Earle tinted moisturiser
as a base as I very rarely wear foundation. It gives better coverage than your average tinted moisturiser and is a dream to apply. It also has mineral UV SPF15 protection, which is reassuring for me with my fair skin.
2. Make-up removal.
Now I know this may seem really boring, but I believe I've tried out a lot of different brands of face wipes over the years, and these, for me, are by far the best. They're super soft, don't dry out in the packet and the cucumber scent is really refreshing ~ just what you need at the end of a long day. Another bonus is that they're often on offer in Boots at 3 for £3 - bargain!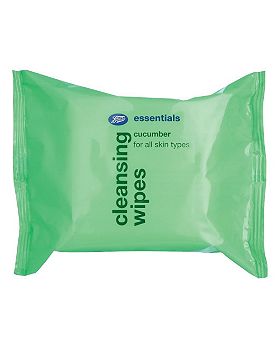 3. Exfoliate.
For silky smooth arms and legs, this body scrub from Soap & Glory cannot be beaten (especially when teamed with their
Exfoliating Scrub Gloves
)! I must confess to being something of a sucker for their branding - I love the pink, and the quirky quotes to be found in the blurb on their packaging.
4. Make-up bits & bobs.
If you fancy a bit of a make-up splurge, I have a few recommendations for you!
Too Faced's eye shadow palettes
are just so pretty and come in a wide range of beautiful, subtle shades to suit most every taste and colouring. They last well, staying put on your eyelid as intended, rather than accumulating in creases or unhelpfully migrating to your cheek bones!
Much to my dear mother's dismay, I have never been a lipstick fan as I am a total fusspot when it comes to finding the right texture and shade ~ many colours I feel make teeth look yellowing, and I much prefer a glossy shine on lips to a matte finish. However, at a recent bridal trial at a Bobbi Brown counter on Oxford Street, I discovered
Creamy Lip Color
in Hibiscus (not the colour shown below). It is fabulous; that is all.
For mascara, I only ever buy
Max Factor
, as I think their rubbery brushes are the best for achieving an even application.The
Masterpiece
and
False Lash Effect
mascaras are my favourites.
5. Bubbles.
As I've mentioned in the past, I love a good bath! I find though that the level of pleasure and relaxation a bath affords is directly proportional to the quality of the bubble bath and shower gel you use. I'm a bit of a princess ~ I need sudsy bubbles, satisfactory lather and, perhaps most importantly, delicious fragrance. As someone with a bit of a sweet tooth, I tend to favour sweet scents such as vanilla and coconut. This last beauty best is a recent discovery ~ a little birthday gift to myself last week! ~
Philosophy's Vanilla Birthday Cake
can be used as bubble bath, shower gel and shampoo! I haven't tried it on my hair yet, but it smells temptingly edible, produces plenty of bubbles and feels great on my skin. Also, I've found a little goes a long way, so although this is an extravagance for me on the cost front, it's definitely good value.
I'd love to hear your thoughts if you decide to try any of these out! Also, don't be shy, please feel free to comment and share your own favourite beauty buys below...
pp x